Joe Dynan
A Music Collaboration Project

Blog - March 30 - by Niki

Paul Simon, Art Garfunkle & Pizza
We can all look back and find significant moments in our lives. For Joe Lee Dynan it was when he met Paul Simon and Art Garfunkel.
Big brother Phil was away, a cadet at West Point, when the Dynan's went to see Simon & Garfunkel perform in concert at Western Illinois University. Simon and Garfunkel were still college students themselves and after the show, the Dynan's went up to the pair to meet them. Joe's little sister, Denise, was feeling rather bold and gracious th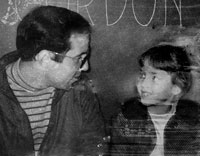 at evening, and invited the musical pair to come to the Dynan house for supper. It seems there was frozen pizza she was more than willing to bake for them and much to everyone's surprise and Joe's delight, Paul and Art accepted Denise's invitation, bringing along their manager as well. Paul took a special interest in Joe's music and spent a great deal of time with him. They looked over song lyrics, played some music and because Joe talked a great deal about his older brother, Phil, Paul thought it would be a great idea to give Phil a call. Unfortunately, Phil was not in at the time but the next day he got the message that Joe and Paul Simon had phoned. Phil laughingly says, "I still owe Paul a return call." The visit, conversation, and sharing of music made a big impact on Joe and his degree of organization and dedication to his music. Joe's organization skills was rooted in necessity that had grown out of the Dynan "lifestyle".
Relocating was the nemeses of the Dynan family. Times were often hard and their father found it necessary to move his family around a lot; he had to follow the work. I am sure it was difficult for their mother, but it was also very hard on the Dynan children. Making friends just to have to leave them for a new school and new neighborhood a few months or a year or two later became a painful way of life. All children handle these situations in his or her own way, but Phil and Joe solved the problem by building a bond between them that was tough as leather, unwavering in loyalty. They were best friends whom they never thought they would have to say goodbye to.
When Joe turned 12, he got his first real guitar. Learning to play well became his priority. He had to learn what music sounded like, what it felt like, because he did not have money to buy lessons. Joe taught himself to play. He would write poetry, make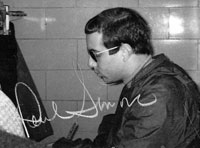 lyrics from the poems, and write music for songs all with a stilted knowledge for reading music. By the time the boys hit their teens, it became apparent that Joe was a born musician as compelled to write, sing, and play guitar as a moth drawn to a flame.
When Phil returned from the military, he rented a three-bedroom flat on Chicago's north side. Joe, unwilling to be away from his brother and best friend any longer, moved in with Phil as a roommate. Joe had changed, though. Joe had become his music. He lived, breathed, and ate music. Joe went on to record songs on his reel-to-reel tape player. He played every gig he could get anywhere he could get one. Then he met Karyn, the love of his life. This young love added a new dimension to Joe's music. The young woman was such an inspiration to him he even wrote a song about her, and she inspired many others he wrote. However, the song he composed to describe his childhood was the one that caught and held the attention of a music scout who heard Joe play in a local joint in Chicago. It was the song that convinced the scout that he just HAD to get Joe signed on to his label. Joe, at a mere 20 yrs of age was signing a contract with Columbia Records. He was on his way! All the hard work, the dedication, the heartbreak, the tough times was paying off! "I Have Always Been Gone," an ode to his family's need to relocate often for work was what caught the ear of many in Joe's day, and now is available for you to enjoy and admire as well.
If you have eclectic taste in music at all, you will not want to miss collecting this song. It is a powerful piece of artistry – one that is timeless. Strife tends to visit everyone's lives at one time or another, but Joe Lee's life is a testimony to his conviction not to let the tough times ruin the good.

Download a copy "I've AlwaysBeen Gone" mp3 - $1